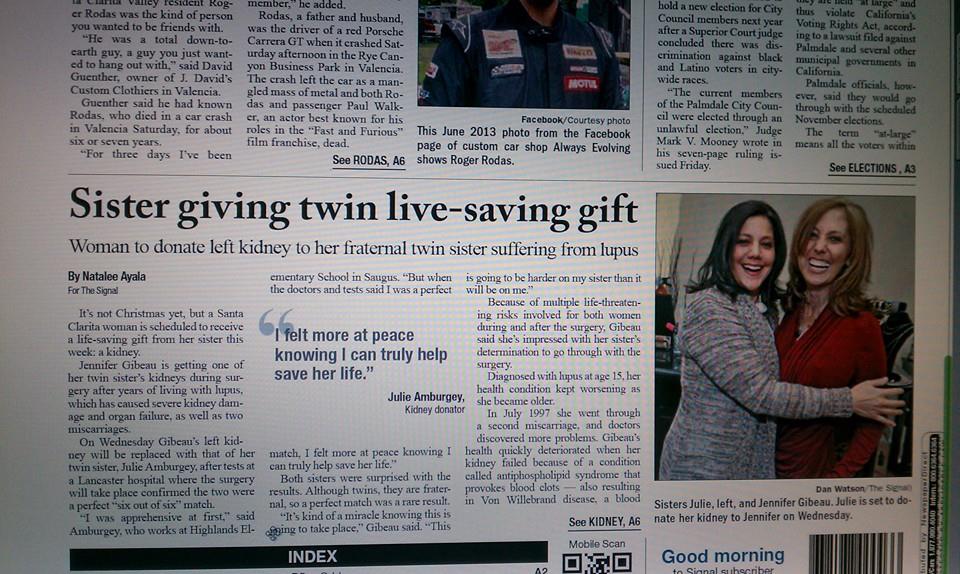 It's not Christmas yet, but a childhood friend of mine is about to recieve a life-saving gift from her sister.
In the last 12 months Lupus has touched my family in a very profound way. So many people have never heard of Lupus. It's a not a disease that attracts many celebrities attention like cancer or aids may. Nevertheless it's a disease that is masked by faces of people you know, and yet you don't know that they suffer. Unless a "lupie" tells you they are in a flare, you probably won't know the level of excruciating pain they are in. You won't know that the disease is attacking their organs and every other soft tissue in their body including eyes, heart, kidneys and the brain. Heck you name it. Lupus attacks it.
As I said early in the blog, Lupus has touched my family in a profound way. My sister was diagnosed with it last year. Yet, its agonies don't stop there. Two of my childhood friends Julie & Jenny are about to undergo a very delicate surgery for the chance of a better life for Jenny. Julie will be donating one of her kidneys to her sister Jenny. This is truly a beautiful gift. Click here for more information on their story.
While there are national organizations out there conducting Lupus research, it is at the grassroots level where patients need your help. Here in Las Vegas, there is an incredible non-profit organization called: Colors of Lupus Nevada. This organization runs on donations of money, donated time and unselfish will. Colors of Lupus Nevada has helped sufferers pain bills, fight bill collectors, pay for tests that insurance wouldn't cover, drive lupies to doctors offices, and provide emotional support through a loving network of people who know about Lupus or who want to learn more. There are many faces of Lupus. Just look around you. To make a donation towards Jenny's transplant GiveForward and make a difference.